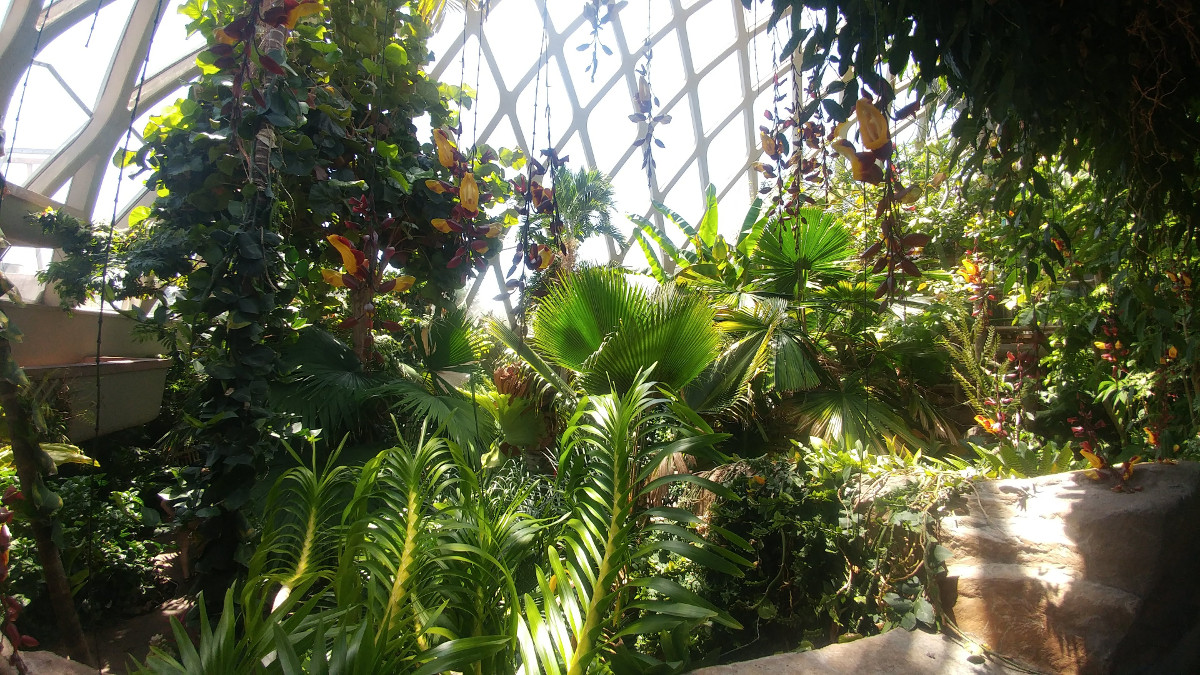 Source: Sara Brockmueller; Denver Botanic Gardens; Jun 2018
Name
Light
Temp
Humidity
Feeding
Notes
Count
Adenium obesum 'Red Picotee'

0

>60°

1

1 mo
Keep dry and cool if dormant. Prone to iron chlorosis.
1
Aglaonema 'Sparkling Sarah'

2

>65°
preferred

1

1 mo
1
Alluaudia procera

0

>40°

1

2 mo
1
Alocasia micholitziana 'Variegated Frydek'

2

>65°
required

0

2 wk
Susceptible to spider mites.
1
Anoectochilus chapaensis

2 3

>60°
required

1

1 mo
Grow in spaghnum moss. Susceptible to root rot.
1
Asplenium bulbiferum

2 3

>55°
required

1

2 mo
1
Beaucarnea recurvata

0 1 2

>50-60°

0

1 wk
Prefers to be rootbound.
1
Chlorophytum comosum

1 2

>50°

1

2 mo
Prefers to be rootbound.
1
Cordyline terminalis 'Octane'

1 2

>50°
preferred

1

1 mo
1
Crassula ovata 'Gollum'

0 1 2

>50°

1

2 mo
1
Crassula ovata

0 1 2

>50°

1

2 mo
2
Crassula rupestris?

0 1 2

>50°

1

2 mo
1
Dendrobium loddigesii

2

>50-65°
required

0

1 wk
Winter rest period: allow plant to dry completely; cold (~50-60°). More info.
1
Dendrobium Frieda Bratanata

0

>65°
required

0

1 wk
Winter rest period: allow plant to just dry out between waterings. More info. More info.
1
Dichorisandra thyrsiflora

0 1

>50-60°
required

0

2 wk
1
Dracaena fragrans?

2

>55°
preferred

1

2 mo
1
Epipremnum aureum 'Njoy'

2 3

>55-70°
preferred

1

2 mo
1
Epipremnum aureum 'Snow Queen'

2 3

>55-70°
preferred

1

2 mo
1
Haworthia cymbiformis

1 2

>50°

1

2 mo
1
Haworthia fasciata

1 2

>50°

1

2 mo
1
Haworthia wandera 'Miami'

1 2

>50°

1

2 mo
1
Hylocereus undatus 'Zamorano'

0 1

>40-60°

0

2 wk
Keep fairly dry when cool. Susceptible to mealy bugs.
1
Maranta leuconeura var. erythroneura

2

>60°
required

1

1 mo
1
Monstera deliciosa

2

>55-65°
required

0

2 wk
Susceptible to spider mites; keep dust off of leaves.
1
Musa acuminata 'Dwarf Cavendish'

0

>40-60°
preferred

0

1 wk
Susceptible to spider mites.
1
Nephrolepsis exaltata var. whitmanii

2 3

>50°
required

1

1 mo
Susceptible to spider mites.
1
Oncidium Moon Shadow 'Tiger Tail'

2

>55-65°
required

0

1 wk
Winter rest period: allow plant to just dry out between waterings. Give warm showers while growing. More info. More info.
1
Philodendron melanochrysum

3

>55°
required

1

2 mo
1
Philodendron scandens

2 3

>50°
preferred

1

2 mo
1
Platycerium bifurcatum

2

>35-50°
preferred

1

1 mo
2
Platycerium superbum

2

>35-50°
preferred

1

1 mo
1
Polyscias fruticosa

2

>60°
required

1

2 mo
1
Sansevieria trifasciata var. hahni

2

>40°

1

2 mo
1
Sansevieria trifasciata 'Bantel's Sensation'

2

>40°

1

2 mo
1
Sansevieria trifasciata

2

>40°

1

2 mo
1
Schlumbergera 'Thor Ritt'

2

>35°

0

2 wk
Cold induces flowering
1
Scindapsus pictus 'Argyraeus'

2 3

>60°
preferred

1

2 mo
2
Syngonium podophyllum?

2

>50-60°
required

0

2 wk
4
Zamioculcas zamiifolia

2

>40°

1

1 mo
Drought tolerant. Allow to dry completely in winter. Prefers to be rootbound.
1
---
Stats
Current species count: 39
Current specimen count: 45
Key
Light


Full sun


Partial sun


Indirect sun


Shade
Water
Surface dry: water when top 1/4-1/2" of soil is dry.
Partly dry: water when at least the top 1" of soil is dry.
Mostly dry: water when more than half of the soil is dry; should not be bone dry.
Fully dry: don't water unless the soil is completely dry. Especially in cooler conditions, these can wait several weeks between watering.
Temperatures: if a ">" range is given, it specifies the minimum temperature the plant can survive at, as well as the minimum preferred temperature.
Feeding: wait this amount of time between feeding. Stop feeding in winter, unless the plant is actively growing.
Supplements and sprays
Iron chlorosis: Yellowing leaves may be a sign of iron chlorosis. This can be caused by a deficiency of iron in the soil, but more often is due to the plant failing to take up enough iron. This can be due to problems with the root system (compacted old soil, root rot, etc), because the soil is too alkaline, or because the soil does not have enough organic material. Repotting will often solve the problem, but if that doesn't work or is not possible, one can acidify the soil or provide an iron supplement. To acidify the soil, water with a solution of 1 Tbs vinegar in 1 gal water (or 1/4 tsp vinegar in 1 1/3 cups water). Iron supplementation can be provided monthly with chelated liquid iron, as a foliar spray or soil supplement.
Resources
How to write botanical names
(Additional note: "sp." is unspecified species, "spp." is several species.)
Icon sources
https://www.iconfinder.com/icons/183364/sun_icon
https://www.iconfinder.com/icons/183365/sun_icon